The Lost Bozos
---
The Bozos were originally created
for the 1995 Mardi Gras Celebration
for Bill Graham Presents
at the Kaiser Auditorium in Oakland
featuring the Neville Brothers
and Bob Weir's Rat Dog Review.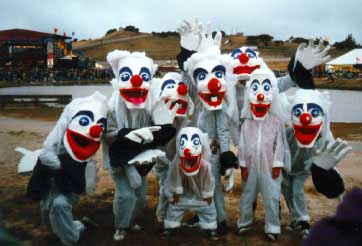 The Bozos at BGP's Laguna Seca Days in Monterey
The Bozos were designed to be worn
by the Art Police so we would become
the art. Many of our previous projects
were extremely large and cumbersome.
The Bozos are light, easy to move around
in and fun to wear among a large crowd of people.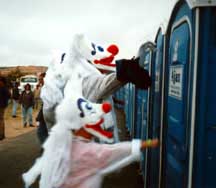 The Bozos pranking the port-a-potties at Laguna Seca Days.
There are eight Bozos - six large heads with hands
and two small heads for kids to wear. The heads
and hands are fabricated from cardboard
using the Zim technique and painted
with acrylics, the hair is fiberfill,
and the jumpsuits are paper!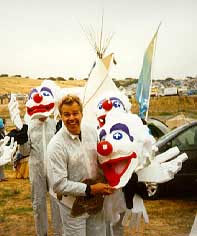 Are We Really? a Bozo?
---
The Bozos have appeared at the following events:
Bill Graham Presents 1996 Mardi Gras
Kaiser Auditorium - Oakland, California
Bill Graham Presents Laguna Seca Days
Laguna Seca Raceway - Monterey, California
Dick's Picks Grateful Dead CD Release Parties
The Fillmore Auditorium - San Francisco, California
Bill Graham Presents New Orleans by the Bay
Shoreline Amphitheater - Mountain View, California
The Anon Salon
Climate Theater/PartyScience - San Francisco, California
Ken Kesey & Ken Babbs, Friday the 13th
The exorcism of Triskaidecaphobia!
Maritime Hall - San Francisco, California
The GrandFurthur Tour
with Ken Kesey and the Merry Pranksters
River Front Park - Eeeerieeeee, Pennsylvania
The Phish Concert - Darien Lake, New York
Canadian National Exposition - Toronto, Canada
The Rock and Roll Hall of Fame and Museum - Clevland, Ohio
The Dead Head Community Gathering
The Ashkenaz - Berkeley, California
Various Dick's Picks CD Release Parties
The Fillmore Auditorium - San Francisco, California
Wunderland Ballroom - Boston, Massachusetts
The Electric Factory - Philadelphia, Pennsylvania
---
Click here return to


---
Click here to return to